Commodores Home | Bio | Images | Lionel Richie Interview

Commodores live at Gulfstream Race Track, February 1997
Images 1/3

Gulfstream is a horse racing track, in Hallandale Florida, who are open from January 3 to March 16th. They have a concert series that runs every Saturday. On the bill this year were Kool and the Gang, Eddie Money, The Commodores, KC and the Sunshine Band, Nester Torres, Johnny Maestro and the Brooklyn Bridge, Spyro Gyra, Chuck Mangione and others. The following photos were taken by Carl Lender and are published here with his kind permission.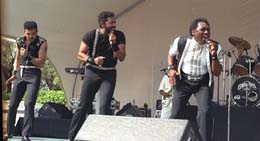 Images 2
Photographs © Carl Lender 1997.
All rights reserved.


Commodores Home | Bio | Images | Lionel Richie Interview
---
© Maria Granditsky December 1996.
All rights reserved.
No part of these pages may be reproduced or published without the prior written permission of the author. Do not save, link to, or in any way use the images on Miss Funkyflyy's Web Pages, without first obtaining a written consent from the Webmistress, Maria Granditsky.

---