In the afternoon of November 28, 1996, Lionel Richie landed at Arlanda airport. His motive for traveling to Sweden wasn't to do publicity for his new "Louder Than Words" album, but to give a free performance at "På Flykt", one of the Swedish National Television's largest entertainment offers ever. "På Flykt", which translated into English means something like "on the run", was a six hour long, live broadcast gala, where many of Sweden's top artists performed, various objects were sold by auction and viewers phoned in to make their bid or to donate money. All the benefits went to The Red Cross and to the Swedish aid organization Radiohjälpen and the money collected would be used to help refugees in Azerbajdzjan, Afghanistan, Bosnia, Colombia, The Ivory Coast and Zaire.
Since Lionel had spoken of the reasons to this visit on the Swedish news and had been pumped by journalists all day (in fact, I was the last on the hectic schedule), the discrete hint from his Swedish record label representative: "he doesn't mind talking about the past" was all I needed to switch from the "what was it like working with Babyface on your new CD" question sheet, to "Is it true that you didn't want to be the lead vocalist in The Commodores". Not that his collaboration with Babyface didn't interest me, it's just that he's replied to those questions ever since the record came out and here was a chance to do something different. I found Lionel to be a warm, witty, intelligent and fast-talking man, who spoke even more rapidly as the subjects got deeper. And the topics he touched during our forty-minute long conversation included things I never would have thought Lionel was willing to discuss. We talked about racism in the United States, the accusations of Lionel rejecting his African-American roots, but most of all about the imperishable music he's created, both in The Commodores and as a solo artist. Here's the transcript of the interview:
Maria "Funkyflyy": Hello Lionel and welcome to Sweden. I know this isn't the first time you're here, though. The Commodores played in Stockholm back in 1979. Unfortunately I couldn't attend then and besides, I wonder if my parents would have let me. I was just thirteen at the time.
Lionel: That was a great show, oh my God! Let me tell ya, your mother and father did the right thing, because it was a scandalous show! It was horrible. Those women, ahh... (sighs)... those women on the front row! We played "Brick House" and they just had no sense of shame whatsoever.
I'm sure this is real stupid of me, but just what is a "Brick House"? I've heard Isaac Hayes use the phrase in his "Out Of The Ghetto" song, but he went even further and sang "built like a brick shit house". Now, please explain what a woman's sexy body has got to do with a shit house (laughs).
(Laughs) damn right! You see, a brick house means she's stacked. Let me explain that to you. See, when you have these wonderful measurements, 36-24-36 or variations of that in any form and you got these legs and this body and guys turn around and go "aww"... that's a brick house! She's built like a brick shit house means that she's strong, shit is not a negative thing, it just means that the brick shit house is not gonna fall down, it's not a wooden house. I know that sounds bad (laughs).
I've been informed that you don't mind talking about your days as a Commodore and because I'm an old fan, there are a few things that I've always wondered about. On the "Hot On The Tracks" album (Motown, 1975), there's one song that always cracks me up. It's called "Quick Draw". My significant other is a ham radio nut and "Captain Quick Draw" has obviously got something to do with CB radio. I mean, it's completely hilarious!
Awww, "Quick Draw", you're really going back in time now. Milan Williams, the keyboard player for the Commodores, he wrote that song and he is, or was, a CB fanatic. OK, all of us had CB radios. His title was "Captain Quick Draw", then my title was Jack Benny, only because I was very stingy with my money and so was Jack Benny. Ronald LaPread of course was called "Black Jack" and Tommy was called.. Ahh, I forget the names now, but anyway, we all had our CB names. Now "Captain Quick Draw" he just wrote a song about CB radio. I can't believe he did it, but we put it out. It's the silliest song in the world, but it worked. Everybody at that time had CB radios, so it worked it out fine!
I read that there is an unreleased Commodores' album on MoWest , recorded before "Machine Gun" and that you, among others, worked with Norman Whitfield on it.
That's true. We did some work with Norman Whitfield. Uh-uh-uh. Well, it's not a whole album, that's why you haven't heard it and we'd probably would have to go back and do some little patching here and there, but there is definitely an album sitting there. I call Norman one of my instructors. Norman is amazing, he was amazing, or however you wanna put it. The guy was just the best teacher in the whole world. He taught me how to sit down with no pad, no pencil, no nothing and write a song, just hum it. Just hum the frigging song... He was just wonderful.
I've heard from other people that has worked with him that he was all the things you say, but also that he was a slave driver.
He was definitely a slave driver, but his whole point was, he didn't settle for your good. He settled for your best and sometimes you get artists, fabulous prima donnas, and they're gonna hit three or four notes and "thank you very much". "Wit" would made you sing until your throat fell out, but at least you found out some new things about yourself that you didn't know about, because he really would dub you in very hard. Fortunately, he didn't dub me on too many songs, but the Undisputed Truth, I watched how they worked with him. I said 'I'm gonna go home and get some sleep' or whatever, you know, but they just kept on singing. He was very difficult to work with, or work for, but the end result, the quality of the record was just incredible.
Did you know that there's a budget CD on various, fishy-looking labels floating around here in Europe called "Keep On Dancing"? I know you released "Keep On Dancing" as a single on Atlantic Records around 1969, when Michael Gilbert, Jimmy Johnson and Andre Callaghan were in the band, before Walter "Clyde" Orange and Ronald LaPread joined. I'm wondering where the other 12 tracks comes from. It's mostly instrumentals, cover versions, like Sly & The Family Stone's "Sing A Simple Song" and Johnny Taylor's "Who's Making' Love".
I have not seen it! "Keep On Dancing" is the name of the album? You know what? It's probably the Atlantic stuff. We did a lot of stuff. Wow! This was the beginning of the Commodores, this is the very first group. The first group ever. This was actually before Clyde and Ronald! I think we played all those songs for the audition at the Atlantic recording studios. "Sing A Simple Song", "Keep On Dancing", yeah that was the hit, or at least what Atlantic put out. That's when Michael Gilbert was singing. Oh... my.... God!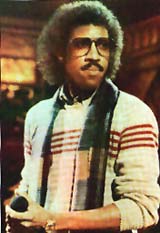 Now, you originally played sax in the Commodores. Is it really true that you didn't want to be the lead vocalist?
That's absolutely true. I didn't. "Lead singer? Are you kidding me?". I was terrified! I was not thinking of it. Clyde was the lead singer, fine. I was happy with it. The bass player that we had before Ronald, Michael Gilbert, he was the lead singer and I became the singer, only because as I became a writer, I only sang the songs that I wrote, period. Ever so quietly, I just kept going to the front where I would put this horn down. Eventually, I would never pick up the horn and of course the rest is history. I never went back to the horn.
I read that you actually didn't know how to play sax, that you walked around the corridors in high-school with the sax under your arm, just to impress girls!
Oh, please! Let me tell you. I was the greatest horn holder that ever lived! I did that every day. People would come up to me and say "hey man, do you play horn?' and I'd go 'no, no man. I hold the horn". What I found out was, all you had to do was stand on the stage with the band and just wave the horn from time to time and hit "du-du-du-du'" and man, all the girls would walk over to you after the show and go: "Are you the saxophone player?" and my answer was "ugh, yeah". Over! That was the best rap in the whole world, come on!
I have the highest respect for your solo work and the things you wrote during your time in The Commodores, but I have to admit to you that even though I think a song like "Three Times A Lady" is a masterpiece, I was always more into the funkier side of the Commodores than the balladry.
The funky side was the best! See, it's the bar band thing. You have to understand what we represented at that time. We were, I mean, you wanted a sorority or fraternity party or you were opening a club or a bar? Call the Commodores! But we played, we were absolutely funky when we started. What we found out was that there were so many funky bands, so many, that we couldn't cut through! In other words, when you got the Ohio Players, when you had, you know, Earth Wind and Fire and stuff like that... We were trying to get to a level of sophistication, trying to find out where we were going. I'm gonna explain to you how it happened. Now, we didn't plan on having "Three Times A Lady", "Still" and all these songs as our focal point. What happened to the Commodores was that when we had an album do, everybody would bring an uptempo song to the group, so I figured out an easy way to get a song on the album. I'd bring the slow song, that was all I was supposed to do. So it guaranteed that my song got on the album. Now, what happened with all that was that my song became the hit, so that became the real focal point of the group, but it was just supposed to the slow song, you follow me? "Zoom" was the thing, we wrote "Zoom", Ronald and myself. It wasn't supposed to be the hit-hit, it was just supposed to be the slow song! (laughs). And of course, as time went on, it just became the identity of the group. Very strange how it happened like that, though.
I don't know why, but I kinda imagine that Walter "Clyde" Orange was sort of, the funkiest Commodore...
Clyde is the funkiest Commodore! I must be honest with you. Everybody's giving me credit for singing "Brick House", that's not me, that's Clyde! Everybody goes "ah, man Rich, sing 'Brick House'" and I go: '"I don't sing 'Brick House'". The story is that there was no song, really written to compliment what Clyde does. Since "Brick House", we didn't follow-up with him, because quiet as it was kept, Clyde was the one who wrote most of the lyrics and most of the melody to that song. That was something he felt, that was his kind of style and we just never went back as a group and followed up on it. But Clyde is the funkiest little creature on the planet.
From what I understand, The Commodores are still touring. I'm not sure what the line-up is, but since Ronald LaPread had moved to New Zealand in 1986 and Milan Williams departed in 1989, I would suspect that the line-up is William King (trumpet), Clyde (drums, vocals) and J.D. Nicholas singing lead.
I'm just partial, but I think that the Commodores' sound are basically four guys. If you want the rhythm part of the
Commodores, that was a combination of Ronald LaPread, the bass player, Walter Orange, the drummer, that's number one. Thomas McClary, the guitar player, which is all that "Slippery When Wet Stuff". Nobody else could play that guitar part like Thomas McClary, only because he didn't play it like a guitar, he played it like an ukulele! He could only play five strings, so, he just played a different kind of style. All that stuff you that you hear on "Easy", that's Tommy, that's just how he played. So, between Milan Williams, the keyboard player, who didn't play a lot of stuff, he just complimented the guys very well, that's the funk base of the Commodores. Now, to not have that and to say you just have some players, is not the same, you know what I'm saying? I think, not taking any credit away from me and "Wak", the trumpet player, but to me, it's very easy to drive a car if it's built like the Commodore machine. I could go out and sing any song in the world with those four guys playing, because they made it so simple to sit in the driver's seat.
Who were "The Mean Machine"? Were they your support on concerts?
Yes. What they did for us was it allowed us to, for me at least, to get off of the horn fully. The Mean Machine was like two horn players, who could switch up on keyboards from time to time. So it allowed for me to put the horn down fully and to concentrate more on vocals, because it got to the point where I was playing and singing! I was so tired by the time the show was over that the guys said "we gotta find some substitute quick here".
(Laughs) you mean you didn't have enough energy left for the girls after the gig?
Honey, did you say that? (laughs). Let me tell you, I tried. I desperately tried and then I found out something disturbing... That there are too many women in the world and no matter how I tried to be this one man army who destroyed all the women... I just couldn't do it!
(Laughs) nah, nah, nah. I don't believe one word of what you're saying. The Commodores had a very clean-cut image. You all lived in Tuskegee, Alabama, were married to the women you'd been dating since high-school...
Absolutely! But remember now, the guy we're talking about is this 21-22 year old who was not married. Thank you! I was wild and crazy, out of my mind! (laughs).
So, where are you living today? In Alabama?
I live in L.A., but I still have my place in Alabama. Give me the woods I love down there.. There's something about earth living, it's very conducive to home life, very cool.
Lionel, you're a Super Duper Star. You must be a multi-million-zillionaire and even though it's wacky to ask, I've always wondered what life's like for someone in your position. I mean, what would a normal day in Lionel Richie's life be like, for instance?
(Laughs) well, you see, if you're down south, you don't need the multi-million-zillion dollars. All you need is a hundred dollars and you can last for the next twenty years, because in Alabama, we don't spend a lot. There's not much do to, but in L.A. you can spend more money than money, but the trick is on a normal day, believe it or not, I'm probably either in the studio or chasing this brand new two and a half year old of mine around the room a little bit. My normal day is basically between tennis, hanging out with my friends.. With me, the day goes fast, because when I'm waking up, it's just five hours before the sun starts going down, so my day is very fast.
You're saying that you're a night-owl?
I'm a night owl up to about two thirty, three O'clock. Then after that, it's over! Sometimes if I'm really in a great mood I'll watch the sun go up. But since I had my son, you kinda wanna get as much sleep as you can, before that brother wakes up, because when he wakes up... (laughs). I can't impress him that dad has laid down some rules like 'don't bother him until twelve O'clock' , can't tell that to him. He doesn't know who I am yet and I like that.
My favorite track on your new "Louder Than Words" album is of course the funky "I Wanna Take You Down", which was produced by Jam & Lewis. What I think is so funny about that particular song is that The Commodores and the Ohio Players must have been fierce rivals back in the day and yet, here you go, some twenty years later, sampling The Ohio Players' "Ecstasy" (laughs)...
Yeah! The thing about it is that when I went to Jimmy and Terry I kept trying to tell them "OK, let's go and write some new, different and strange songs, because the three of us have the ability to do something different". All they wanted me to do was say "Awww!". And I kept telling them: "Guys, you mean to tell me the entire summation of my career is gonna be 'awww' ?" The Ohio Players thing was, I mean, "Brick House" was really "Fire". Same beat, we just wrote "Brick House". You have to be influenced by someone, so when they said "funk", I said let's go back to the original funk. Sugar was just too funky! Unbelievable!
Did you borrow the "awww" from Sugar?
(Laughs) I tried to borrow everything I could from that Sugar back then. Back with the Commodores!
Now, Lionel, ever since you went solo in 1982, your main thing's been ballads. Do you ever miss getting really low down and funky?
Yeah, but we're going back now. The next album. Just hold on to your seats. Everything goes in a circle, so it's time to go back a little bit. I was hinting at it a little bit, but I didn't wanna take off and start doing things strange and different until I had everybody on board. So now that I got everybody, kinda halfway knowing that I'm back on the street a little bit here, I'll put the next album out and hopefully it'll be wonderful.
You've won more awards and prizes than anyone can count. I wonder, do you ever feel pressured or afraid by it? That you won't be able to repeat those past successes?
No, no, no. You know what's so wonderful about it? It's like the other day, someone came up to me and said "man you need to write a song like 'Easy'". I said: "I wrote 'Easy'". The guy says: "You need to write song like 'Three Times A Lady'" and I just said: "I wrote 'Three Times A Lady'". In other words, I don't need to win an Oscar, I already have one. I've got the Grammy's, so now my new answer to that is: I spent the first twenty years of my life in this business, trying to be Lionel Richie. I spent the second twenty years of my life, enjoying Lionel Richie. I'm very comfortable and the challenge now is gonna be that I can go out an enjoy it. People know me, they know my history, but the point is, now it's more or less going out and what generation am I gonna be talking to? I'm talking to a fifteen year old about "Brick House", he wasn't even born, I'm talking to a forty, fifty, sixty year old... Everybody that watched he Olympics saw a different side of it, the kid who was ten years old is now a twenty years old, so the demographics of my fan base is very interesting. To answer the question, no, I'm very comfortable, I don't think I'm gonna chase that one. What I think right now is "how far can I expand it?"
I recall you being criticized many years ago for not having enough blacks on your staff and obviously there are people who think that you've totally forgotten your R&B roots. What do you have to say about that?
I heard all that stuff and here's the funny part about it. Throughout my career, what I've tried to do is, I've been kind of like, it's amazing how much we follow the stereotype. In other words, Sting can come along, 'I'll use him as a perfect example. Rolling Stones can come along, pick up four black players and they become the hippest guys on the planet. Take that same band, take those same musicians, they can't get arrested by themselves. Now, we can go off and do opera, we can do all that stuff, meanwhile we believe that if we don't come out funky, then we're not really being black. I'm trying to say to people: "You know what? Guys, we're so multi-talented that I'm gonna prove to you that we can sell anything!". That was my challenge, because I got so sick and tired of being told that I couldn't do this or that. The more they kept telling me "you can't do this", the more I kept saying "watch me". We have more to our culture than just one dimension. I get so insulted when every artist in the world, like rockers, say "oh my God I was inspired by Muddy Waters and I was inspired by Chuck Berry" and that rock group made a hundred million dollars and they stayed together for four years and they quit and broke up and went on to something else. Here's B.B. King, here's Muddy Waters and Chuck Berry, they still haven't made a hundred million dollars and they work every frigging day!
Why is it that it's all right for a white artist to do so called "black" music, but if a black artist does "white" music, he or she is labeled a "sell-out"?
Yeah, yeah! Here's our big problem. I'm talking about America now, this is not so much over here, but in America, OK? Who made B.B. King famous? White or black? Who made Chuck Berry the Godfather of all the Beatles and stuff? Who made Ella Fitzgerald, Ella Fitzgerald? White folks! What I'm saying is : We're not loyal! We're the flavor of the month. Right now, if it wasn't for me, being Lionel Richie, I'd have to compete with Snoop Dog. Excuse me! What I'm saying to you is that unfortunately we demand this loyalty, but then when you go to radio they say "you know what, you ain't happening" and you go "wait a minute my man, what are you talking about?". So they tell you "well, you can't rap and that's all we're playing now, man". Where did Johnny Taylor go? Where did James Brown go? They're sampling James Brown, but James Brown can't get his record on the radio. How absurd can that be? Every record that's been out in the last ten years has got James Brown screaming all the way through it and James Brown can't get his record played on the radio! That tells you where we are. So I'm not loyal to anything but one thing: Breaking all these barriers and stereotypes that black folks play basketball, football, baseball and we sing the blues.
I read that Vanessa Williams was mistaken for a waitress, think it was at President Clinton's last installment. I'm not naive, I mean, I know it goes on, but it's so very, very hard to for me to really comprehend that racism exists. In the United States. Today!
It happened to me! I went to a party one night, standing at the front door, waiting to get seated at my table, a lady walked up to me, handed me her mink coat and said "I'll be at table seventy-four". Let me explain the concepts of subtle, stereotypical racism. You wanna hear it? Guy walks into the room, there are three people in there and I'm one of the three, OK? The guy comes in and greets Mr. Steinburg: "Hi Mr. Steinburg, how are you", and shakes his hand. The guys walks over to the next person in the room: "Hello Mr. Goldstein, very nice to meet you" and shakes his hand and then the guy comes over to me and says "Lionel!" and hi-five's me. What does that tell you? It happens every day.
Somehow I thought that you were, sort of, beyond this.
No, no, no. It happens to all of us. It happened to Sidney Poitier, each one of us has that story. Sidney was waiting down in the lobby of a hotel one day and somebody handed Sidney some keys and said "bring my car 'round front" (laughs).
In what way are European and U.S.-fans different?
Oh, they're very different. Here, people are loyal. James Brown can come over here and be a super star any day of the week, Kiss can come back over here right now and dress up in exactly the same make-up and they're gonna sell out the Coliseum in sixteen different ways. European fans don't forget, they're loyal. And the artists don't have to compete any more, they can be themselves, because they can live off the records they already put out. But like I said, it's the way the world is set up for. We, who deal with black music, we feel that if jazz-musicians go anywhere left or right, then they've copped out, but it's called growth. We don't allow them to grow. And we, as black musicians or black writers, we have such an amazing slate to write from. Unfortunately we're stereotyped and believe the stereotype and try to follow it. You got twenty thousand black folks trying to rap. Jesus Christ! And they can't figure out why they can't get them all on the radio. You have to try and figure out another way. So my philosophy is if everyone says I should wear a black suit, I'll wear red. I'll be different. You'll talk about me.
You've said "being famous is like being put in a capsule that isolates you from being a normal human" and "I have to struggle to get back to a more human life".
Well, the luxury in this business, after you make it and become very famous is three meals a day and eight hours sleep. Yep, if you can do that, you got it going. And what you'll find is that spending time with your family is impossible, unless you make it work.
How do you keep your feet on the ground?
Alabama. Alabama. Two ways I keep my feet on the ground: Alabama, number one and being a father, number two. I have a two and a half year old that has no concept of the fact that I'm famous and doesn't care. All he wants to know is: "come in the house, look at my toy". "Dad-a bo-to! 'Bo-to dad-a"... OK, I gotta go sit on the floor and play with "bo-to'" (laughs).
So you stopped hiding indoors all day, only going out at night? Wasn't that your method of having some privacy a few years ago?
Exactly right! (laughs). Well, now I try to sleep at night, because that brother's gonna wake up any minute, tearing down the hall!!
You play sax on "Lovers At First Sight" on your new CD. Was that the first time in twenty years you pulled out the horn?
(Laughs) that's pulling out the horn in the last two hundred years!
I heard that you're preparing for a world wide tour again. When does it begin?
We start the tour in June or July next year.
(July '98 Note: Lionel's tour has been re-scheduled and will most likely coincide with, or after, the release of his "Time" album, which was just released.)
OK, Lionel, here's the last question, before I let you go and enjoy your dinner. Is there a chance of an, at least temporary, Commodores reunion?
That's the number one question everyone's been asking me and the answer is probably so. Ronald LaPread is now living in Auckland, New Zealand. Getting all of us back together again is about the legalistics, but it will probably happen. I'm sure that within the next year, or the next two years, you'll hear some rumbles.